MediGap Pro – Medicare Supplement Insurance
Who is the MediGap Pro?
The Medi-Gap Pro was founded by Ted Guy with one identifying purpose , "To assist all seniors with superior service and superior expertise in selecting Medicare Supplement and related products."  From our purpose we have drawn the measuring stick of our success – "Best Priced Medicare Supplements, WE promise!!"
Ted has over 25 years of experience in the health insurance business.  He knows understanding Medicare Supplements  can be a complex and daunting task.  He seeks to simplify the understanding and selection of Medicare affiliated products by the use of one very  simple principle "knowing what I know based on my experience and knowledge, what would I do if I were in your situation".  This guiding principle founded in experience,  knowledge and integrity provides for you our client "Superior Expertise and Superior Service" with a Medigap insurance Company.
Ted resides in Phoenix Arizona with his lovely wife of 23 years (Rita) and two sons David and Jeremy who attend Northern Arizona University,
The Guy Family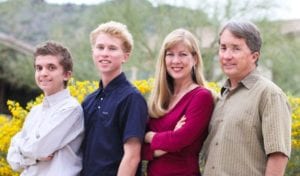 We are happy to serve you!
Independent or Captive?
We are an independent insurance broker.  This means we represent all Medicare Supplement Insurance Carriers we choose to represent.  Because of this we are able to provide our clients with the most price competitive Supplement available in your Zip Code. Remember Medicare mandates that all Medigap (Medicare Supplement Insurance) plans are the same.  The benefits must be identical.  Medicare Supplement F from Company A provides the same benefits as a Medicare Supplement F from Company B.  The only difference is the price you pay for the supplement.
A captive agent has their hands tied.  The captive agent is only able to represent the company the agent is captive to.  This limits greatly your choices.
What makes an excellent independent insurance broker?
Knowledge: Knowledge of Medicare and Medicare related insurance products
Promptness: Ability to promptly respond to emails and return telephone calls.
Markets: Having a large selection of Medicare Supplement Insurance carriers to represent.
Integrity:  Providing the "right and best "service for the client.
Best Priced Medicare Supplements in AZ – WE Promise!
Did you know that all Medicare Supplement Plans must have Equal benefits!
On Page 68 of the 2014 Medicare and You Guidebook, provide by the US Government, it tells us that all Medigap (Medicare Supplement Insurance) plans are the same.  The benefits must be identical.  These benefits needing to be identical are enforced by the US Government.
If the benefits are the same, what's the difference?
One word: Price
If you compare a Medicare Supplement Plan F from Company A to the same Plan F from Company B you will find the benefits are 100% identical.  The only difference will be the price.
Today, all companies use electronic claims payment.  They absolutely must pay the bill as dictated by Medicare on Medicare-approved claims.  Some insurance carriers have developed an excellent job in developing great name recommendation in the Medicare space.  However, if you are able to purchase the same plan from a "Medicare qualified" carrier at significant savings wouldn't it make send to do so?
Remember Medicare requires that all Medicare Supplements by category (i.e. Plan F) be the same.  You can pay for this name recognition in the form of higher premiums and higher monthly rate increases.  In our opinion it make great financial sense to pay the best and lowest price you can for the same product.
The solution to making sure you receive the best value for your money is to work with an established and respected health insurance broker that has access to the best tools to provide you the best pricing available.  We, are such a broker.  We use one of the most powerful Medicare Supplement quote engines available in the market today.  BY quoting to your specific zip code you can be assured your pricing is the best!
Our shopping service is free.  We are confident when you use our service you will agree with our company motto: Superior Service and Superior Expertise.
The question:  Will a Medicare Advantage plan save me money?
In our opinion, it probably will not.  Most of our clients are on a fixed income when they retire.  Retirement is a time when knowing  what to expect financially is very important.  Many of our clients can not absorb financially any additional medical cost.  They don't like suprises.
Medicare Suplement F will pay 100% of all qualified Medciare expenses not paid by Original Medcare.  Supplement G will pay 100% percent of all qualified Medciare expenses with the exception of the Part B Deductible ().  Plans F and G are the only Medciare Supplement Insurance Plans that cover cost known as Medicare Part B excess charges.
The surprise of a Medicare advantage plan are the additional cost you pay for deductibles, copayments and coinsurance, you might experience up to $6700 in additional out-of-pocket cost.
With a Medicare Supplement plan you have consistent monthly premiums.
With a Medicare Advantage Plan, you could have a big surprise when you need it.
See Below
Compare Medicare Supplements to Medicare Advantage Plans in Arizona
| Concerns of Seniors | Medicare Supplement | Medicare Advantage |
| --- | --- | --- |
| Restrictive Network of Dr's & Hospitals | NO | YES |
| Co-Payments to Providers | NO | YES |
| Up to $6700 out of pocket yearly | NO | YES |
| Health Plan Decides what test you are approved for | NO | YES |
| Can Your Plan be Cancelled | Can not be cancelled As long as premiums Are paid | Plans are approved yearly and can be |
| Is pre-certification requires | NO | YES Penalties may apply if not done |
| Is MD Anderson Center Included | YES | Need to Find Out |
MediGap Pro providing Medigap Insurance in Arizona